Good control of ventilation and air purification is important
For all commercial buildings where people reside, including indoor sports locations, it is necessary to have an inspection carried out that takes a close look at the current requirements for ventilation. In all cases, this must comply with the Building Decree and the applicable national guidelines.
Purifying the air, removing harmful substances is just as important and sometimes even more important. It is clear that air pollution is a problem and is currently a major threat to humans and animals. Air pollution occurs in various forms and compositions, such as bacteria, viruses and (ultra) fine particles. Fine dust and micro-organisms are found all over the world. It is of course extremely important for your health that the quality of that air is as good and healthy as possible.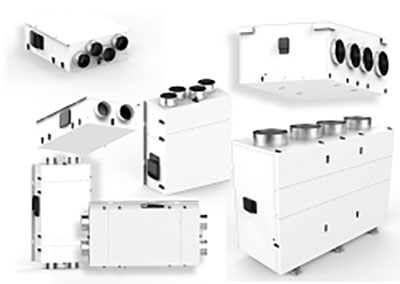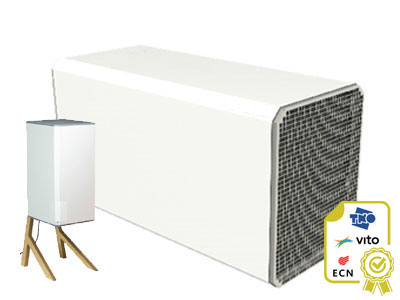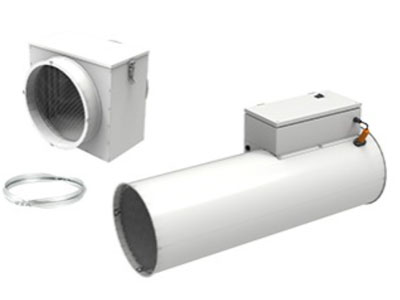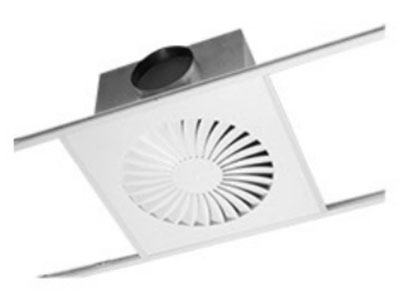 Medtrading supplies modular air purification units as an important addition to an existing ventilation system and mobile movable (filter-powerful) air purification units. The applied technology reduces / filters up to 99.94% of the harmful substances from the air flow. and has been successfully tested by various independent research institutes such as TNO and / or TÜV, ECN and VITO. In addition, this technology is energy efficient with a consumption of less than 14 W.
Advantages compared to other suppliers and other techniques.
Extensively tested by independent institutes (TNO, TUV, ECN and / or VITO). Compared to other products on the market (with only a CE mark), our units have been proven effectively tested for safety and operation of this technique.
No ozone is released, which is dangerous for humans and animals. This is often the case with UVC.
The cleanest air thanks to ultra-filtration
Filters the smallest fine dust particles
(Full) automatic operation
Very efficient and even more efficient than HEPA filtering
Most energy-efficient in its variant
Inexpensive to maintain
Certified by various institutes for filter efficiency
Best buy at the moment when it comes to air purification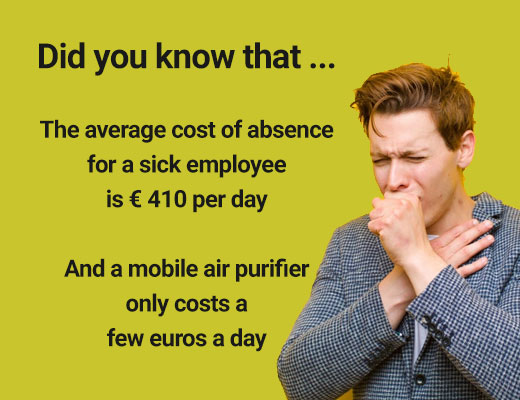 Effective against dust, allergens and viruses
The air purification technique that we apply in our systems is a powerful, effective and durable electrostatic air filtration technique. The Medtrading air purifiers filter hazardous and polluting substances from the air and disinfect organic particles such as bacteria and viruses through ionization.
By purifying the air in this way, chronic diseases, virus infection outbreaks and odor nuisance can be greatly reduced or even prevented.
Medtrading air purifier removes pollutants from the air of your workplace, office, waiting room, classroom or gym.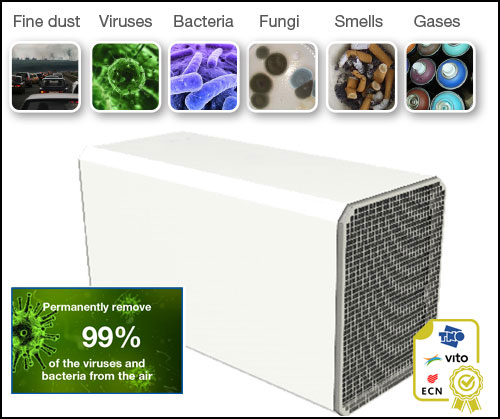 Medtrading air purifier removes:
Dust
Paticle matter (PM10, PM2.5, PM1)
Ultra fine particle matter (PM0.1, submircon and nano particles)
Microbiological contamination
viruses,
bacteria,
fungi,
tracks
pollen)
Volatile Organic Compounds (VOCs) and Odors (Using a Active Carbon Filter)
You can buy or rent an air purifier at Medtrading
Buying a suitable air purifier for your situation may not be the ideal solution for a variety of reasons. Which system is the best and is the capacity sufficient? To prevent you from making a high investment and ultimately not having the most optimal solution, Medtrading offers you the option of renting a complete system.
Rent including maintenance
You can rent a Medtrading air purifier for a few euros per day! We have a large number of new air purifiers that we can deliver and install to you within 2 days. Medtrading also provides periodic maintenance and ensures that a technician is quickly on site in the event of a malfunction or defect.
Contact us today to discuss the possibilities with our ventilation specialist.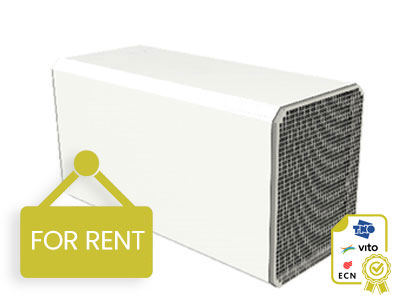 Air purification technique against Corona contamination
Our air purification is based on a revolutionary air purification technique. The purification system has a very high air purification efficiency (up to E10-11 / HEPA classification according to NEN-EN 1822 standard). No use is made of a HEPA filter, which means there is 80% less pressure drop than with conventional filters. This provides you with significant energy savings compared to classic filters. The air purifier only charges particles in the device and collects the particles directly on a collector, its own open structure filter. No harmful radicals are produced, making the system completely safe and suitable for all areas.
The Medtrading air purifier is a modular system with various models and application options. We supply a number of standard models, but these can also be easily adapted to your specific wishes. Medtrading always offers tailor-made solutions when it comes to ventilation or air treatment.
Applications Corona-proof ventilation:
What are our benefits:
High purification efficiency
High filtration efficiency of particles and gases without the use of
conventional, non-durable, expensive and very dense textile filters.
Low energy consumption
The open structure of the filter / collector generates 80% less pressure drop (air resistance) than conventional systems.
User-friendly air cleaning
Each model is designed to be very user-friendly and safe. The collectors do not absorb any moisture, which prevents the growth of mold and / or bacteria.
Our range of air purification systemes and Medtrading's custom solutions ensure an optimal implementation for a Corona-proof ventilation of every space.
Overview Medtrading air purifiers with ionization (TNO, ECN, VITO)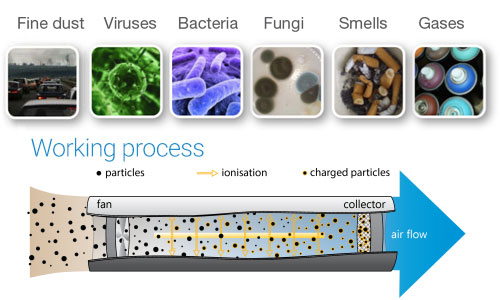 Advantages of our systems
Kills and catches viruses
Cleaning equal to HEPA cleaning
Cleans the entire room
Healthy clean indoor air
No risk of fungal or bacterial growth such as in textiles or paper filters
Quiet operation
Mobile air purification (plug-and-play)
More effective for fine dust than F or G filters
Low energy consumption and cheap to use
1) Mobile Air Purifier 400 m³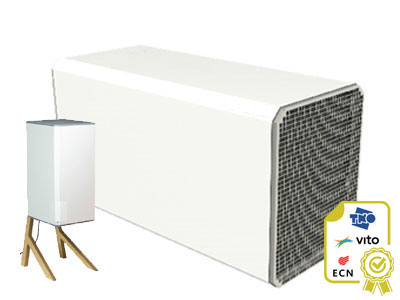 This mobile air purifier permanently removes viruses, bacteria, harmful dust, fine dust, pollen and fungi from the air in every room or room. This allows you to breathe clean and healthy air. Thanks to the carbon filter supplied as standard, the air purifier also removes gases and odors from the air.
The air purifier provides essential air cleaning and has two positions: on and off. When the air purifier is on, it will optimally clean the air at its highest capacity (400 m³ / h). The air cleaner has been specially developed for portable air cleaning. Very suitable for catering, waiting areas, office, bedroom or hospital room air purification in hospitals, waiting rooms, isolation rooms, corridors and nursing homes. Suitable for rooms smaller than 200 m3.
The air purifier quickly and effectively removes coarse dust particles, fine dust (PM10, PM2.5, PM1) and even ultra-fine and nanoparticles from the air. The collectors (fine dust filters) in the air cleaner permanently remove viruses, bacteria, pollen, fungi, traffic emissions, wood smoke, dust mites, allergens and other microbiological contaminants from the air.
Placement on a cupboard, desk or floor (using stand). Wall mounting is possible with wall brackets.
2) Ceiling air cleaner 1,800 m³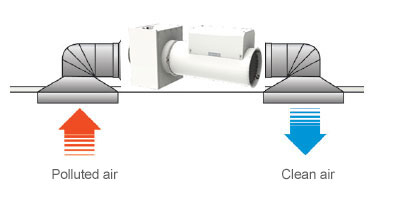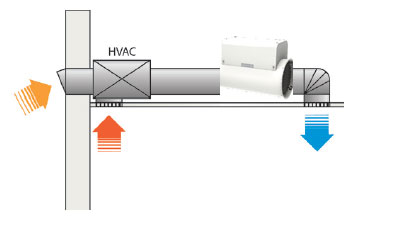 The Ceiling air purifiers are mounted above a suspended ceiling. This installation cleans and recirculates the air in the room. This system can be perfectly applied in an existing situation, for example after an existing heat recovery unit or air supply unit (see photo)
This ventilation unit is ideal for existing air conditioning units.
Replacing the filters is easy and can be performed by anyone without moving ceiling tiles.
An effective, silent and invisible air purifier for Corona proof ventilation.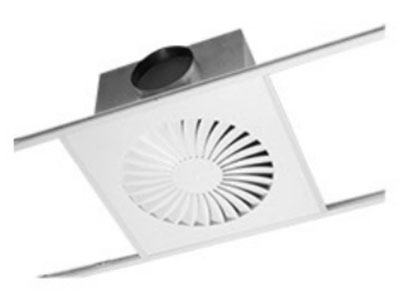 Suspended ceilings are often used in companies, hospitals, schools, etc. Our Clean Ceiling 75 units are easy to install above these suspended ceilings, whereby this unit replaces a standard ceiling tile.
The air purification unit is suitable for end-of-pipe filtration: cleaning of ventilated air before it is introduced into the room.
Optionally, this system can be equipped with one or more closed ionization units and / or UV (C) units. This purifies the indoor air of 99% of all harmful substances present such as dust, fine dust, pollen, molds, bacteria and viruses.
The collectors (fine dust filters) are located in the discharge grille and can be replaced quickly and easily. The discharge grille takes the place of a standard ceiling grille
Make existing ventilation system Corona proof with UV(C)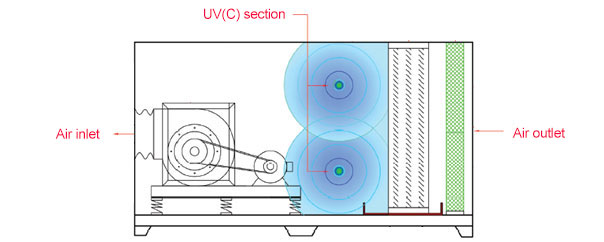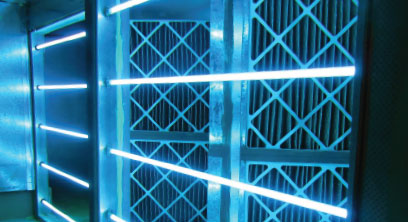 Have your existing installation checked by Medtrading and converted to a Corona proof ventilation installation. With the current state of the art, Medtrading can ensure that your installation becomes corona proof with minimal adjustment.
Medtrading turns your ventilation system into an effective filtration and cleaning system that removes the airborne viruses, germs and dust particles from the air. Viruses, bacteria and fungi are biological particles. Most of these are killed or deactivated in the ventilation system. In this way, the viruses, bacteria and other pathogens are permanently removed from the air. By providing your ventilation system with this adjustment, the risk of spreading the Corona virus in your living and working environment is reduced to a minimum.
Medtrading applies UV (C) technology in existing air handling units to permanently remove viruses, bacteria, harmful dust, fine dust, pollen and fungi from the air flow. Suitable for recirculation, one-way ventilation and two-way ventilation.
Air cleaning technology tested by TNO, VITO and ECN explained
Medtrading's air cleaning systems have been tested by various independent institutes such as TNO, VITO and ECN. Results show that the air cleaning efficiency of the applied technique is 90 to 99% of the atmospheric particles with a size between 10 and 0.1 microns (PM10, PM2.5, PM1, PM0.1 / ultrafine).
Polluted air is led into the air purifier with a built-in fan or an existing air flow in a ventilation duct. The first part of the air purifier exposes the air to an ionizer. The ions charge the particles in the air (both fine dust and microbiological pollutants). All charged particles are then collected by a collector at the end of the device. The clean air that leaves the air purifier is clean, healthy and purified air.
How does this Air Purification Technology work
Polluted air is led into the air purifier with a built-in fan or an existing air flow in a ventilation duct. The first part of the air purifier exposes the air to an ionizer. The ions charge the particles in the air (both fine dust and microbiological pollutants). All charged particles are then collected by a collector at the end of the device. The clean air that leaves the air purifier is clean, healthy and purified air.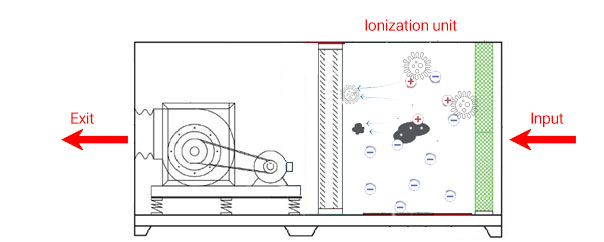 Distinctive working principle
The applied technique charges particles in the device, making it possible to use an open structure filter (a collector) and not a conventional closed filter. As a result, the energy consumption that moves the air through the collector of our systems is significantly lower. At the same time, we achieve very high efficiency and treatment yield. Replacing the saturated collector is very easy and can be carried out easily and safely by anyone.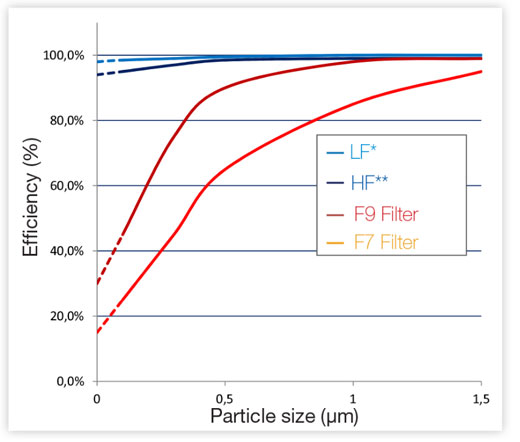 Smaller particles are more harmful to your health. Our systems remove much more small particles than conventional filter systems.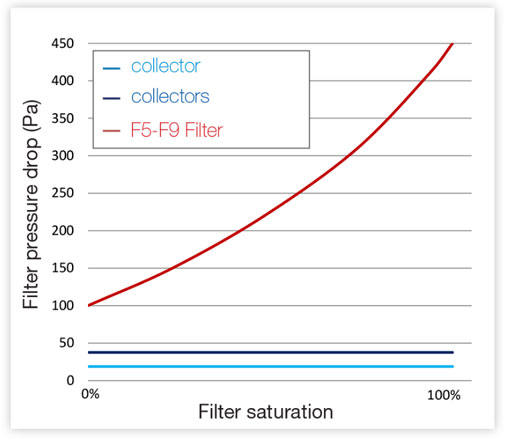 Each Pa is equal to 1 euro of energy costs per year. Our systems offer many advantages compared to F9 filters.
The difference with other air purifiers and ionizers.
Clean air is created by addressing the source and cleaning contaminated air. There are many different air purifiers for sale. Most often come with a standard filter. Especially in this corona era, people are increasingly opting for newer, efficient techniques, such as air purifiers with ionization. but there are also differences in this area.
Air cleaner with standard filter
With a standard air purifier, a fan is used to start an air flow. The air flow is then passed through a filter, in which air pollutants are captured and the air quality is improved. The smaller the fine dust particles, the closer filters normally have to be to trap the (risk) particles. Another point of attention is that the filters must be cleaned or replaced regularly. They fill up and contamination accumulates. The fan has to work harder and that results in more energy consumption, lower capacity and noise pollution. In addition, many filters are made of moisture-retaining materials such as textiles or fibers, in which bacteria can grow.
Air purifier with ionization
Ionization is a newer technique with many developments. It is an innovation that is being used more and more, among other things from the perspective of sustainability and energy saving.
There are many air purifiers on the market that use ionization. There is a difference between air purifiers that use positive ionization and negative ionization. Ionization (the positive or negative electrical charging of atoms or molecules) creates ions that, when they attach to dust particles, produce charged dust particles. Charged dust particles then settle much more easily on all kinds of surfaces.
In addition, there is another difference in air purifiers with ionization, namely air purifiers that charge particles electrically (without a filter) and air purifiers that charge particles electrically, but also capture them directly. The former is called open ionization (1) and the latter is called closed ionization (2):
(1) Open ionization:
With open ionization the charged particles are scattered across space and find themselves a surface on which to deposit. So they deposit on all surfaces in the room such as furniture, ceiling, walls, appliances, but also our lungs. These systems create many charged particles, as well as free ions, which are often negatively charged. This is then called negative ionization.
(2) Closed ionization:
Here, the charged particles are captured on a special surface in the system itself, so that no particles are blown into space and thus cannot deposit on other surfaces. With closed ionization, there can be both positive and negative ionization. The capture surface can be of various materials, such as conventional filters, metal plates or special open structure filters. The advantage of air purifiers that trap particles with a special open structure filter, is that it does not become clogged and less energy is required to move the air through this filter. A good example of air purifiers with an open structure filter are the air purifiers from Medtrading.
Part of the odors are removed by particle capture. For specific and targeted odor removal, we additionally apply an extra special gas adsorption filter directly behind the open structure filters (collectors). This gas filtration section has been specially selected on the basis of the type and concentration of the gases and odors present and can differ per industry and even per customer. Placing gas filters behind the particulate filters protects the gas filters from dust, making them more effective and less likely to need to be replaced
Ask for more information or make an appointment for tailor-made advice (on location).
What is the current delivery and stock status?
Below you can see how many units we have delivered from October 2020 and what the current stock is. These numbers are updated daily. No rights can be derived from the stock status. If you want to be sure of delivery, please contact us via the contact form below.
Number of systems delivered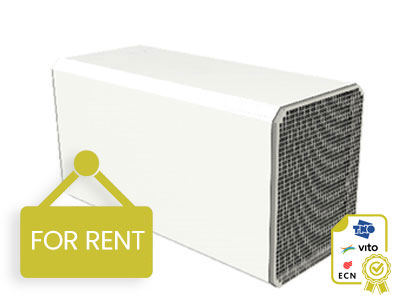 Introductory offer is extended until November: